Sleep Under the Stars
---
Far from city lights, wide-open spaces in remote desert lands create some of the world's most desirable dark sky, making the desert an ideal place for stargazing.
Travel back in time and learn about the Bedouin's history to explore the desert and navigate it using the stars. Hear stories about nomadic and sub-Saharan cultures' relationships with the sky. The trips immerse you in a stunning desert setting, and the true beauty of the experience starts after dark. A starry desert trip conducted by local experts will fascinate you.
You can make a reservation with the agency, hostel, or bivouac that will accommodate you, in case you want to see the stars and hear professional astronomers who will explain to you using real telescopes and binoculars.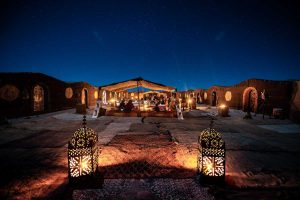 An ideal region for stargazing
Have you ever wondered why a black sky is so preferable? You only need to understand how city light pollution reduces your ability to watch the stars and constellations. The magnificent colours of orange, pink, and gold as the sun sets over the dunes are the starting point to a wonderful trip after the sky lifts its curtain. We all live under the same sky, yet its purity and beauty serve as a stunning background to the Draa-Tafilalet region.
Visits to the calm desert illuminated by a starry sky or moonlight are unmissable. Every evening, you will be invited to explore the secrets of Morocco's sky. Daa-Tafilalet region is ideal for admiring the beauties of the clear desert sky, with native astronomers pointing out the brightest and most beautiful constellations, the huge Milky Way, and distant and enigmatic planets.
Look up to see a dark horizon illuminated by an infinite number of sparkling stars. A touching experience!
Did you know?
---
Remember that the desert is a harsh environment, especially in terms of temperature. Excessive during the day, it drops dramatically at night. Don't forget to pack extra warm clothing!
Morocco does not permit wild camping. You should accompany professionals for desert evenings and make sure to leave a few hours before sunset (preferably before 3/4 p.m.).
Bring some water with you. In the desert, there is no running water.
You can stand and stare up for long periods of time, but a light foldable chair will allow you to enjoy the view better.
Uneven surfaces can be difficult to see at night, and the human eye takes 20 to 30 minutes to completely adapt to extremely low light levels. You should avoid using bright lights (flashlights, displays, or mobile phone flashes) because they slow down this process of adaptation. You may, however, convert your light into a red light, more or less good, by wrapping it in red cellophane.
You should avoid the full moon periods. Because they are bright, they reduce the number of stars you can see. Check the lunar phase and moonrise, as well as the hours, to determine the optimum time for stargazing.