The Kasbah of Taourirt
Amazigh architecture at its finest
The Kasbah of Taourirt
---
Taourirt Kasbah is an outstanding building, in the city of Ouarzazate and a UNESCO World Heritage Site. It is worth visiting to discover its rich decor.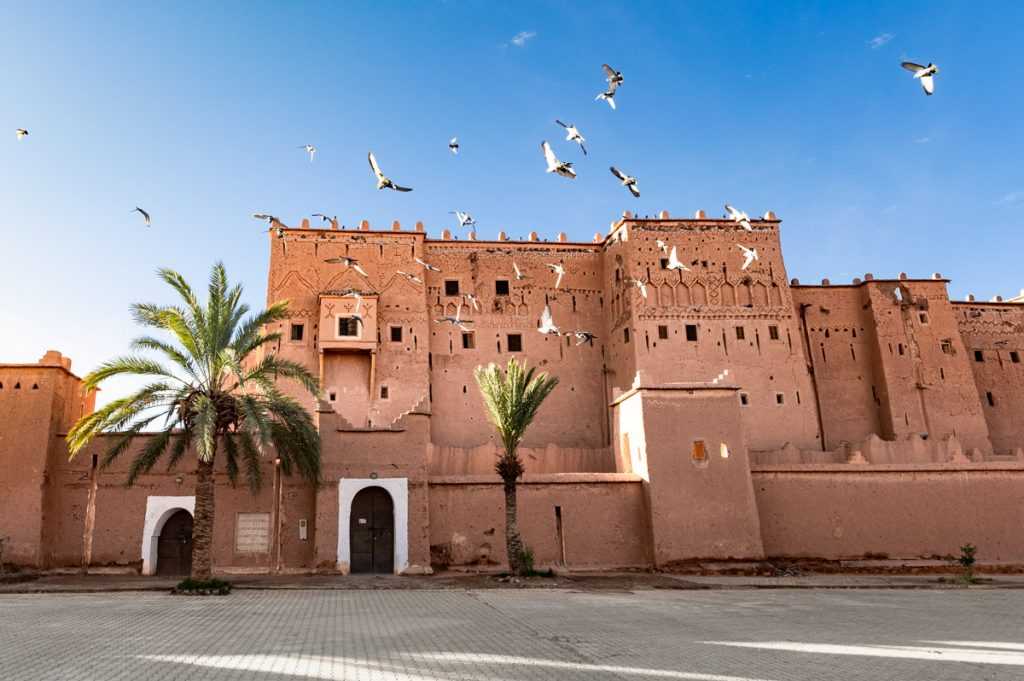 Amazigh architecture at its finest
---
Your visit to the Kasbah of Taourirt will allow you to discover many Amazigh architectural treasures. After passing through the main gate, you will enter the citadel's inner courtyard, a typical Ahwach arena. This is where parties used to take place once upon a time.
The Ahwach National Arts Festival is held in the Kasbah every year. It's the ideal time of the year for both locals and tourists to get the most out of the city.
Looking up from the center of the Kasbah's square, large towers with beautiful shapes and sculpted windows can be seen. Designed out of blocks of dried soil and straw and coated with a mixture of raw soil and lime, the Kasbah of Taourirt is carfully painted with geometric designs.
You'll be led through a labyrinth of passages and rooms once inside. There were approximately 300 rooms in the Kasbah in total. The wear and tear of time, history, and men have turned its original interior upside down and leveled its spaces. The city-style reception room, the dining room, and the private apartments are among the few parts of the Kasbah that can still be visited, and bear witness to its former magnificence. The interior walls, which contrast with the sobriety of the exterior ones, are richly decorated with painted stucco, zelliges on the walls, stems of pink laurel intertwined in the Tataoui theme, or planks of cedar carved to shape the ceilings.
From the Kasbah's roof, you can see the oasis and the city of Ouarzazate as you continue ascending the stairs. You will be able to see the palm trees and the river valley below in a breathtaking view!
You can explore the Kasbah of Taourirt on your own, with a guide, or as part of a group trip. Discover this work of Amazigh art and take advantage of the opportunity to learn more about 17th-century engineering techniques.
Useful information
---
Did you know?
---
El Glaoui transformed a part of Ksar Taourirt into a magnificent Kasbah, where his family lived until 1956, the year Morocco gained independence. In 1972, the Municipality of Ouarzazate purchased the Kasbah of Taourirt.