Tamegroute's Green Pottery
Classy pottery
Tamegroute's Green Pottery
---
Tamegroute is 18 kilometers away from Zagora. It is the hometown of the well-known marabout Zaouia Naciria. The village is famous for its one-of-a-kind pottery' workshops, which have been passed down over generations. Its exquisite pottery's secret lies in its enamel and green colors. It is a one-of-a-kind artisanal and cultural heritage.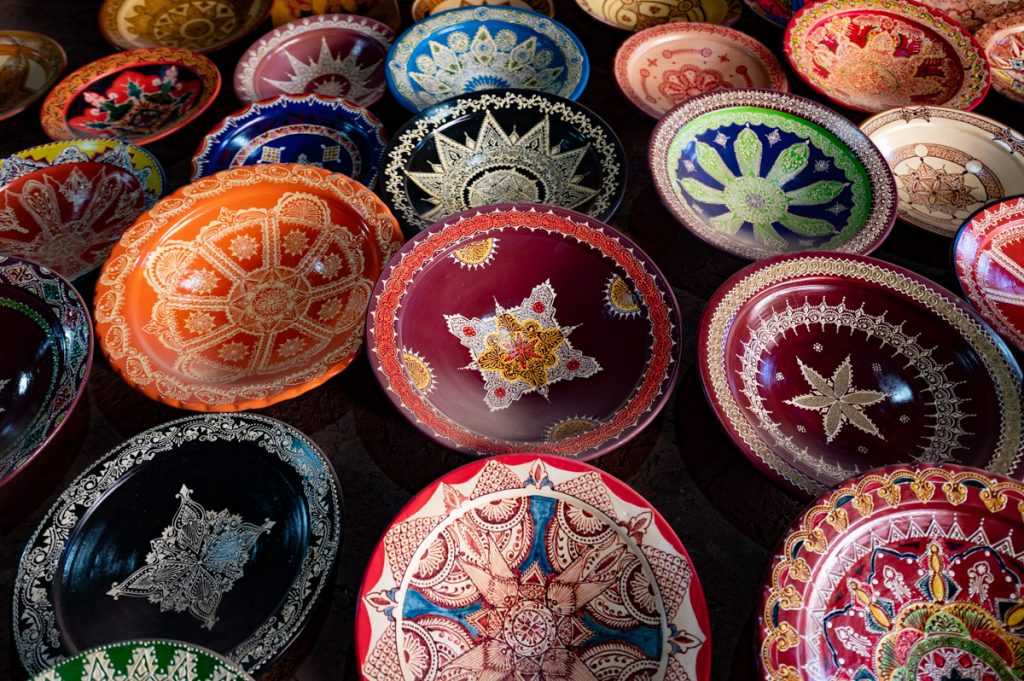 Classy pottery
---
Tamegroute's artisans create useful and decorative items that are rich in deep colors used to decorate thick walls. Infinite shades of green, drips, drops, and ripples are among the normal imperfections that make these pieces so appealing. They are elegantly decorated objects, dressed in a beautiful emerald, fir, or olive-green enamel and full of beautiful motifs inspired by the region's rich culture. They are also available in a henna-decorated bright white format.
Tagines, dishes, pots, jugs, candle holders, ashtrays, oil lamps, decorative tiles, and even tiles and bathroom basins can be found there. These products are available at reasonable prices in the village's entrance stores and are available in all Morocco, and even Europe.
These rustic products are created using inherited ancestral art rules. They are extremely heat and humidity-resistant, and their color never fades. They have a lovely glow and can fit into any space.
Clay, fire, and a magical formula
Tamegroute's workshops haven't changed much since they were established in the mid-seventeenth century. As a result, they are Morocco's oldest pottery factory that is still operational. The clay is worked in a variety of ways that have been passed on from generation to generation.
The clay is kneaded by hand and then spread out under the stars to ferment. The craftsman then works on it with a pedal-powered pottery wheel. After shaping, the pottery is dried in the sun. After a few days, each piece is coated with a natural varnish made of Khol, copper powder, barley flour, and local dry stones. This is an ingenious mixture of manganese, silica, cobalt, and copper oxide, with barley starch to bind it!
The most important phase of production is responsible for the pottery's distinct colors, which are reminiscent of both green palm groves and the majestic desert happens now. The pottery is steamed in typical dome-shaped ovens that are heated to over 1000° using a combination of palm leaves, dry thorns, and wood chips. This phase is responsible for the pottery's distinct colors, which give a reflection of both green palm groves and the majestic desert.
The colorful pottery glows under the sunlight, representing a precious and valuable heritage. it is indeed a meditative phase!
Useful information
---
Did you know?
---
The Zaouia Naciria invited craftsmen from Fez, and professional potters to build and decorate its library in 1675.
The locals have adopted the pottery art once they have found it. Since the clay in the Draa valley is very sandy, it is mined underground rather than from the surface. This helps to make durable and resistant products.