Draa-Tafilalet, a Therapeutic Region
Draa-Tafilalet, a Therapeutic Region
---
Are you looking for healing and inner peace? Do you have a strong desire to reconnect with yourself? Is the stress of everyday life being a heavyweight on your shoulders? Should you take a break? Draa-Tafilalet invites you and encourages you to go on a journey of body and mind healing.
You will go on an inner adventure, full of peace and serenity, in absolute immersion out of time, in the middle of the dunes, on high plateaus, or at the bottom of breathtaking gorges. If you are into participating in this experience? Here are three activities that will make your stay in the region more enjoyable.
Meditation treks
Go out on a mindful visionary, or an Afghan walk within yourself in the middle of wildness.
At Ergs, particularly Chgaga and Chebbi, you will wander on a sand island where silence reigns, along with the wind making the sand, and creating a muffled symphony. here also is a  chance to gaze at a stunning sky and witness breathtaking sunsets and sunrises. Trekking in Iriqui Park, the Todgha and Dades valleys, or dwelling to the rhythm of nature in the foothills of Jbel Ayachi are also possible options.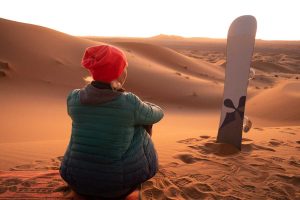 Sand therapy, open-air sauna
Sand therapy, an ancient method with numerous benefits, is well-known around the world for relieving a variety of joint, spinal, muscular, and dermatological illnesses. This treatment, also known as psammatotherapy, part of a local alternative medicine that consists of burying a large part of the body in very hot sand for a few minutes over numerous sessions.
You will be able to enjoy it throughout the hot season, particularly in Merzouga and the Erg Chgaga dunes. As the warmth of the sand can be deadly if the time and technique of digging up are not proper, you must certainly be accompanied by specialists who master this practice.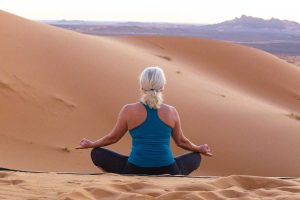 Yoga and Resourcing
Do you prefer a calm and peaceful meditation? The region provides numerous options to disconnect and feel better while learning about an amazing culture.
Yoga sessions in Merzouga and Chebbi can be done in front of a stunning sunset, in the early morning light, or around a fire at the bivouac.
The natural factors facilitate total relaxation and stress reduction, resulting a sense of well-being and spiritual relief. You might also meditate in front of the beautiful surroundings of lakes Tislit and Isli, go trout fishing, or take a trip to the Tatiouine Valley or the Tizgui waterfalls.

Did you know?
---
The digestive system and its state of health play an important role in one's overall well-being. In this regard, Tahlaout, or date syrup, is highly recommended. Tahlaout, which is very common in the Ziz and Draa valleys, is consumed as jam with toast or pancakes, or with a spoon like syrup. It is excellent for eliminating toxins while also toning muscles and nerves. As a result, this is a nutritional supplement that will assist you in making the most of your healthy stay. Remember to include some dates in your backpack for treks and hikes.